India has so many beautiful destinations to explore. You will find numerous destinations that are still unexplored by commercialization. There is a lot more to explore in these lesser-known destinations than the famous destinations you have heard about. You can experience a different side of India while discovering and exploring the places that are not crowded with tourists yet. Imagine Visiting Ziro Valley in Arunachal Pradesh, where you will see misty mountains and lush green fields, or think about Gokarna in Karnataka, which is a pleasant place with beautiful beaches and temples. These places might not be in the limelight, but these beautiful places have their own specialty which is waiting for you to explore. Let's explore more about these hidden gems and see what makes them so interesting.
7 Best Unexplored Destinations in India:
   1.  Ziro, Arunachal Pradesh
   2.  Gokarna, Karnataka
   3.  Gurez Valley, Kashmir
   4.  Chopta, Uttarakhand
   5.  Mawlynnong, Meghalaya
   6.  Kila Raipur, Punjab
   7.  Lepakshi, Andhra Pradesh
1. Ziro, Arunachal Pradesh:
Ziro is a very beautiful unexplored place in Arunachal Pradesh, India. Ziro has beautiful green fields where farmers grow rice crops and it's surrounded by tall mountains which makes it more alluring.
Apatani Tribe: Ziro is home to the Apatani tribe, they are famous for their sustainable farming methods and distinctive customs. These people live in bamboo houses and their facial tattoos make them unique.
Music Festival: Ziro has a special music festival annually, people come from all over the world to enjoy this Ziro music festival.
Weather: The weather in Ziro is nice and the views are amazing. If you want to experience different culture and    beautiful nature then Ziro is a great place to visit.
8 Alluring Places to Visit in Ziro:
Kile Pakho
Tarin Fish Farm
Talley Valley Wildlife Sanctuary
Pine Grove
Tipi Orchid Research Centre
Dolo Mando
Midey
Ziro Puto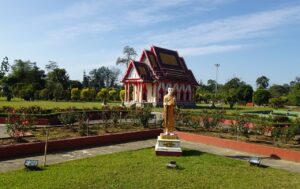 Best Places to Stay in Ziro:
Hotel Anne Ziro
Kasa Resort
Ziro Place Inn
Hote Blue Pine
Best Time to Visit Ziro Valley: Between October to April
2. Gokarna, Karnataka:
Gokarna is a beautiful unexplored place in Karnataka, India. Gokarna has both spiritual feelings and beautiful beaches.
         
Beaches: Om Beach and Kudle Beach are very calm beaches there where you can relax, build sandcastles and play in the water. If you love beaches then Gokarna can be the best place to visit.
Temples: Gokarna is famous for its very old and important temple called Mahabaleshwar Temple. This temple       has a rich history that makes it fascinating to visit.
Peaceful Nature: Gokarna is not as noisy and busy as big cities. It is a very peaceful place where you can enjoy       the sound of the sea and nature. You can feel the gentle breeze by sitting under a long palm tree.                           Gokarna is best for relaxing and forgetting about the fast-paced world for a while.
So, whether you want to explore an ancient temple, have fun on the beach, or want to feel close to nature then  Gokarna, Karnataka is a great choice because it is a mix of everything natural beauty, a touch of spirituality, and a calm atmosphere.
10 best places to visit in Gokarna:
Mahabaleshwar Temple
Om Beach
Kudle Beach
Shiva Cave
Paradise Beach
Maha Ganpati Temple
Koti Tirtha
Yana Caves
Gokarna Cliff
Mirjan Fort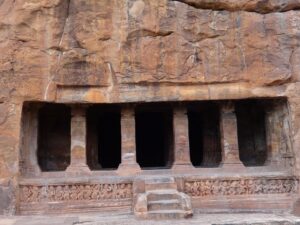 Best Place to Stay in Gokarna:
 Main Gokarna Town
Namaste Cafe Area
Luxury Resorts
Best Time to Visit Gokarna: Between October to March
3. Gurez Valley, Kashmir:
Gurez Valley in Kashmir is a very beautiful place that you must visit once in your life. This place is like a hidden treasure that is surrounded by big mountains and green plants. The Kishanganga river that flows through Gurez Valley makes the place nice and calm. Valley is covered with thick snow in the winter season. The people of Kashmir are friendly and they share their traditional Kashmiri ways. Gurez Valley was an important path for trading long ago, here you can still see old buildings and things from that time. Gurez Valley is a great spot for nature lovers. You can see colorful birds and can go for a walk in the woods. You might see a snow leopard if you are really lucky. Gurez Valley is a mix of historic things and beautiful nature where you can take a break from your busy life.
6 beautiful places to visit in Gurez Valley:
Kishanganga River
Wular Lake
Habba Khatoon Peak
Tulail Valley
Dawar Village
Razdaan Pass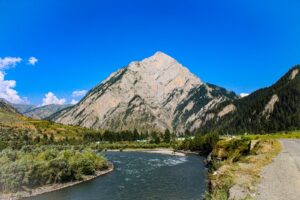 Best Places to Stay in Gurez Valley
Government Guest House, Dawar
 Local Guest Houses and Homestays
 Srinagar
Tents and Camping
Best Time to Visit Gurez Valley: June and July
4. Chopta, Uttarakhand:
Chopta in Uttarakhand is like a small Switzerland in India. Chopta is special for those who love nature and walking. It has thick forests and big mountains all around. Tungnath is a special temple that's high up in the mountains and people love to go on walksto this temple from Chopta. Chopta looks different in different seasons i.e. there are lots of flowers in spring and everything is covered with snow in winter season which makes it a fairy tale place. Chopta is a great place whether you want just some quiet time or adventure.
8 Best Places to Visit in Chopta, Uttarakhand:
          •   Tungnath Temple
          •   Chopta Chandrashila Trek
          •   Kalimath Temple
          •   Rohini Bugyal
          •   Ukhimath
          •   Chopta Meadows
          •   Deoria Tal
          •   Sari Village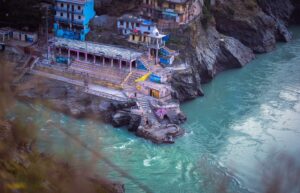 Best Places to Stay in Chopta:
Ukhimath
Trekker's Hut
Guesthouses and Homestays
Campsites
Best Time to Visit Chopta: Between April to November
5. Mawlynnong, Meghalaya
Mawlynnong is a very pretty unexplored village in Meghalaya. It is known for its cleanliness. Bamboo houses of the village, colorful flowers and lots of green plants make it look very lovely. The people of Mawlynnong take care of the surroundings. They use bamboo bins for garbage and also avoid the use of plastic bags. They grow plants naturally without using any chemicals. One of the most interesting things about Mawlynnong is its living root bridges. These living root bridges are made from tree roots and look like real bridges. Tourists love to see these natural bridges and walk on them. Mawlynnong shows us how to live with nature in a friendly manner and how to keep our environment clean. We can learn from Mawlynnong how to take care of our surroundings and make the world a better place.
6 Best places to see in Mawlynnong:
 Living Root Bridges
 Balancing Rock
Village
Church of Epiphany
Mawlynnong Waterfall
Mawlynnong Bamboo Tree Houses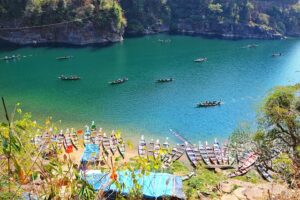 Best Places to Stay in Mawlynnong:
Riwai Village
Eco-Friendly Cottages
Mawlynnong Guesthouses
Bamboo Tree Houses
Best Time to Visit Mawlynnong: Between October and April
6. Kila Raipur, Punjab:
Kila Raipur is a special village in Punjab, India. It is famous for its "Rural Olympics". People come from all over the country to take part and to watch this big event. During the Rural Olympics, you can see exciting things like races with bullock carts, tractors, and horses. People do different challenges to show their strength. It's like a party where sports and fun mix with the traditions of the village. Kila Raipur is not just about sports but there you can also see how people live in the countryside of Punjab. The farms are pretty, and the villagers are friendly. By visiting Kila Raipur you can experience the beauty of the village of Punjab and the excitement of the big event of the Rural Olympics and will also know about the local way of life.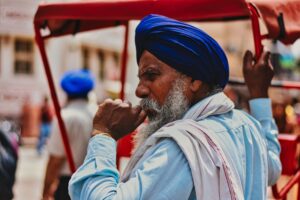 7 Best Places to See in Kila Raipur:
 Rural Olympic Grounds
Gurudwara Sahib Kila Raipur
Farms and Countryside
 Neelon Canal
Ludhiana City
Kanganwal Park
 Village Life
Best Time to Visit Kila Raipur: Best time to visit Kila Raipur is During the Rural Olympic event which takes place in February. Otherwise, November to March are ideal months to visit Kila Raipur.
7. Lepakshi, Andhra Pradesh:
Lepakshi is a special but unexplored village in Andhra Pradesh, India. Lepakshi is famous for its most beautiful and really old temple called the Veerabhardra Temple. Veerabhadra temple's paintings tell stories of ancient times. One of the coolest things in Lepakshi is a giant statue of a bull made from a single rock. Lepakshi is also known for a famous story about Lord Rama and a wounded bird because of this story it's called Lepakshi. Lepakshi means "wounded eye" in the local language. In Lepakshi, you can see colorful paintings and beautiful woodwork made by local artists. If you love to explore ancient times than Lepakshi will be a great option for you because there you can explore history and culture while enjoying the peaceful atmosphere of the village.
7 Best Places to See in Lepakshi: 
 Veerabhardra Temple
 Nandi Statue
 Naga Linga
 Papanaseswara Temple
 Jatayu Padam
 Lepakshi Nandi Hills
 Hemakuta Hill Temples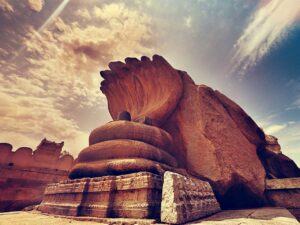 Best Place to Stay in Lepakshi:
•   Haritha Hotel Lepakshi
Best Time to Visit Lepakshi: Between October to March
In India, there are many hidden and lesser-known places that are like secret treasures waiting to be found. These unexplored places are so special because they are not crowded with tourists. When we visit places like Ziro and Lepakshi, we step into a world of history and nature that's untouched by the busy modern world. This kind of places have their unique stories and they are waiting for us to hear them. When we explore these hidden destinations, we are not just having fun but also helping these places to grow. If you love traveling and want to make your career in this field then we at Travelocademy will help you to live your dream life. With our comprehensive courses, you will able to explore, understand and contribute responsibly to the global travel industry. For more information, you can visit our website Travelocademy.