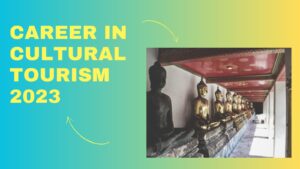 When going to a new city or country, you are not only interested in seeing the tourist sites; you also want to acquire knowledge about the food in the area, historical wonders, and cultural clothing. The main objective of cultural tourism is this element of travel where visitors can receive a taste of the local heritage and culture. Travelers these days are more interested in learning about the cultural heritage of the city or town they are visiting than just taking in the beautiful landscapes. Embracing a tourist destination's cultural atmosphere is definitely an exhilarating experience that inspired the study of this specific topic. So, if you want to start a career in travel and tourism, then this article will provide you with all the important fundamentals of cultural tourism and also focus on main courses, top colleges, and career prospects.
Cultural Tourism
Cultural tourism is a unique kind of tourism that permits visitors to enjoy the local features of a particular place that they are visiting. Cultural tourism always tries to encourage genuine cultural interaction between locals and visitors. It also supports economic development by encouraging the historical heritage of local communities. You will learn about the many cultural characteristics of a location by studying this area of tourism and also will learn how to establish and promote relationships between locals and tourists to provide an enjoyable experience to travelers.
Popular Cultural Tourism Destinations:
India: India's rich legacy is displayed by the country's many different cultures, historical sites, and lively festivals.
Egypt: Egypt is a wonderful cultural destination because of its ancient sites like the Pyramids and Tomb.
Mexico: A blend of indigenous and Spanish cultures, vibrant festivals, and pre-columbian ruin sites.
China: China's lengthy history, the Great Wall, the Forbidden City, and its customary celebrations all provide cultural delights.
Turkey: Turkish baths, bazaars, and historical sites are all available in this nation that connects East and West.
France: France is known for its famous cities and regions and for its art, literature, food, and romance.
Why Cultural Tourism is Important for All Countries:
The local community may greatly benefit from cultural tourism:
Any destination's economy will benefit from cultural tourism.
Cultural tourism boosts destination marketing.
It highlights how distinctive the culture is.
The entire amount can be used for social good.
Underserved communities may benefit from it and grow.
Courses and Universities for Cultural Tourism:
Degree Level                                                Course                                                         University
Bachelor's                    –                  Bachelor in European Culture                  University of Wroclaw (Poland)
Bachelor's                    –                  Bachelor in Heritage and Tourism          University of Stirling (United Kingdom)
Bachelor's                    –                  Bachelor in Tourism and Heritage          University of Western Sydney (Australia)
Master's                        –                  MA Tourism and Cultural Policy               Goldsmiths, University of London (UK)
Master's                        –                  MSc International Heritage                       Edinburgh Napier University (UK)
and Cultural Tourism Management
Master's                        –                 MA in Tourism and Culture                          Radboud University (Netherlands)
Scope of Cultural Tourism:
There are several options for people interested in the industry due to the enormous number of jobs in travel and tourism. Because technology has made it possible for travelers to create their own travel plans through Internet apps, the travel and tourism sector has grown with opportunities. A growing number of nations are recognizing how tourism promotes both economic and cultural growth. As a result, encouraging diverse communities and cultures is given a lot of attention. Since the main goal of cultural tourism is to showcase a tourist destination's heritage, in order to start a career in this area, you must have the specific skills necessary to promote intense interaction between visitors and the local population.
Jobs and Salary in Cultural Tourism:
Career Designation                                    Salary Range (per year)
Tour Guide                                     –                $30,000 – $50,000
Travel Consultant                        –               $35,000 -$60,00
Museum Curator                          –               $40,000 – $70,000
Event Manager                             –               $45,000 – $75,000
Cultural Heritage Specialist      –              $50,000 – $80,000
Ultimately, cultural tourism offers a rich and fascinating experience by delving into the various fabric of human history. Travelocademy is the best institution for travel courses, educating explorers with the knowledge and abilities to appreciate and share the cultural beauties of the world. It is the perfect place to start for individuals who are eager to begin on this life-changing journey. With Travelocademy, embrace your desire to travel and experience the beauty of discovering other cultures.