How to Become a Travel Writer
Do you ever think about the possibility of exploring the world while earning money? If not then read this blog and you will believe it even if it doesn't seem possible. The travel industry offers numerous opportunities to world travelers like Photography, Food blogging, Videography, fashion, and writing. We can't deny that the most interesting job in this field is that of a travel writer. Let's explore more about the travel writer's job profile.
Who is a Travel Writer:
As the name suggests, the job of a travel writer includes researching about various cities and cultures and writing his experience. The work of a travel writer includes writing engaging articles, providing reviews of destinations, tourist guides, and many more. The career of a travel writer will provide you with the opportunity to explore the world. A travel writer puts visual memories into words and makes them forever. Travel writers have the opportunity to meet different people and make relationships with them.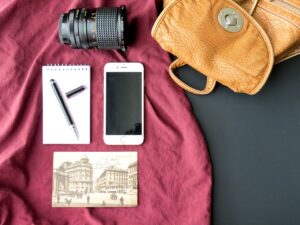 Types of Travel Writing:
Travel writing includes various styles and formats, each having a different purpose. Below are some common types of travel writing:
1. Blogs:
Travel blogs can be of two types:
✓ Personal Travel Blogs: Personal blogs are related to an individual on which he/she shares personal experiences.
✓ Destination Websites: Destination Websites provide information regarding a particular destination.
2. Culinary Travel Writing:
✓ Culinary Travel Writing provides reviews of restaurants and local food.
✓ Culinary journeys are all about exploring a particular destination's food culture and history.
3. Historical & Cultural Travel Writing:
✓ Historical Journeys mean exploring historical museums and sites.
✓ Cultural immersion mainly focuses on interacting with local people and traditions.
4. Research-based travel writing:
✓ Research-based travel writing includes books that examine historical and cultural aspects of a destination.
5. Guidebooks:
Two types of guidebooks are there:
✓ Specialized Guides mainly focused on particular aspects of traveling. For example, hiking and cultural immersion.
✓ Comprehensive Guides provide detailed information about a particular destination.
6. Narrative Travel Writing:
It includes: Memoirs and Travel Essays
✓ Memoirs includes personal experiences of traveler.
✓ Travel Essays provides information regarding cultural insights and personal growth related to travel experience.
7. Adventure Travel Writing:
✓ Adventure Travel Writing involves activities about camping, hiking, and different sports.
How you can become a Travel Writer:
1. Writing Skills:
✓ Develop strong writing skills. Improve your vocabulary and grammar.
✓ Learn different writing styles and approaches.
2. Travel Blog:
✓ Start your personal travel blog to show your writing skills.
✓ Write engaging articles about trips, and provide tips and recommendations regarding travel.
3. Be Patient:
✓ Stay committed and keep writing because building a career as a travel writer takes time.
4. Diversification:
✓ Become diversified and write about different aspects of travel like adventure, culture, food, history etc.
✓ Adopt the way of writing style to suit different people and platforms.
5. Digital Marketing:
✓ Learn digital marketing skills to improve the visibility and promotion of your work.
6. Search Engine Optimization:
✓ Become familiar with SEO for optimization of your content to search engines.
7. Build Network:
✓ Connect with other travel writers through social media and attend travel writing workshops and meetups to learn          from experienced writers.
Best 5 Courses for Travel Writer Career:
There are the best 5 travel writing courses along with universities that can help you develop the skills for this field:
Sr No.
Course Name
University Name
 Specialization
01.
MFA in Creative Writing
 Columbia University (New York)
✓ Best Writing Techniques
02.
Writing and Editing for
Digital Media
University of California, Davis
(Online Course)
✓ Digital Media Writing
✓ Travel Blogging
✓ Social media and Website
Content Writing
03.
Travel Writing Course
MatadorU (Online Course)
✓ Travel Writing
✓ Storytelling Techniques
✓ Building Portfolio
04.
Professional Certificate in
Travel Writing
New York University School
of Professional Studies (Online)
✓ Travel Writing
✓ Publication Strategies
05.
 Creative Nonfiction:
Writing the Natural World
Stanford University (Online)
✓ Travel Writing
Salary of a Travel Content Writer:
In India, a travel writer makes an average compensation of 25000 to 30000 rupees per month. Travel Writers have many options to make money like making their own blogs and publishing books. Travel writers have to develop their skills and need to spend in travel in the initial phase to be approached by various recruiters.
Hope you are clear about your all doubts regarding Travel Writer. Check our latest blogs for more information regarding travel and tourism career. If you are seeking for guidance then visit our website Travelocademy and talk to our best faculty.