It is very important to have the right skills in the travel and tourism industry. Acquiring the right skills works as a special toolkit to do a good job. Knowing how to plan trips smoothly, helping customers, understanding different cultures, and being good with technology are just a couple of the skills that you need. Speaking different languages with skills is very crucial. These skills make trips awesome for travelers. Through this blog, we will discuss the top ten skills and qualities you really need to acquire to build a solid career in the travel and tourism industry.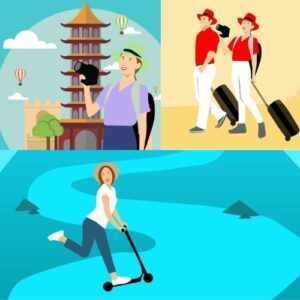 Let's discuss each:
1. Customer Service Skills:
Giving visitors a fantastic travel experience is the main focus of the tourism sector, which includes everything from booking their vacation to meeting them at a resort to leading tours of the area. Good customer service is essential, which is not surprising. In order to continue serving others, you must ensure that every customer feels appreciated and address any problems quickly. Even while working in the travel and tourism sector occasionally entails dealing with people who are furious, worried, or unhappy when things go wrong, you'll also have the satisfaction of contributing to some of their sweetest memories.
2. Cultural Sensitivity:
The travel and tourism industry helps people from all over the world. Being culturally sensitive means understanding and being nice to the different ways people do things in other places. It's like not assuming things about them based on where they're from, but it's all about learning and respecting their traditions and customs. When we make everyone feel valued, it makes their travel more enjoyable and by doing all these we can prevent accidentally hurting someone's feelings.
3. Working In a Team:
Doing your job well with other people is called Teamwork. Everyone plays their own role in teamwork like a part of a team in a game. All roles are linked with each other, which means even if you usually do your work own, you still need to talk with your colleagues and other people in the travel industry. Sometimes, you might need to find solutions together to make sure everything goes well for the customers. It's like finding a fair way to play the game so everyone wins.
4. Problem Solving and Adaptability:
Adaptability is all about accepting changes and being able to handle surprises. Things can sometimes go differently than planned in the travel and tourism industry, so you need to be a good problem solver and adaptable. For example, if there may be a problem with the weather or the flight is late due to any reason then it's for you to quickly figure out what to do so that travelers still have a good experience.
5. Organizational and Time Management Skills:
Time management and organizational skills are very important to be successful in the travel and tourism industry because these are like having a special way of handling your tasks. It is very important to be good at managing time as there are many things to do in the travel and tourism industry for example: booking places to stay for travelers and planning activities. Keeping things in order and not mixing up things is a quality of the organized person. Having a plan to get everything done on time, helps travelers to get what they need and when they need.
6. Communication Skills:
Most employment in the travel and tourist industry depends on being able to communicate clearly and confirm that the other person has understood you. offering a health and safety briefing, offering directions at an information desk, sharing fascinating tales about the past of a place, or getting in touch with air traffic control are all possible tasks. You'll need to modify your strategy based on your function and the current circumstance, and you should be prepared to respond to unforeseen queries. When considering careers in the travel and tourism industry, clear, succinct written communication may not immediately come to mind, but it is crucial in several positions. For example, airline cabin crew must submit a flight report after each flight.
7. Technology Awareness:
In the travel and tourism industry being good with technology is really important. Awareness of technology means having relevant skills to use special tools like knowing how to use computer systems to book trips. Know the use of travel apps and websites to help travelers. Being updated with the latest tech improvements is also very important in the travel industry because this way, you can offer the most convenient and best services to travelers.
8. Risk Management Skills:
The safety of travelers is really important in the travel and tourism industry. One who is working in the travel and tourism industry must know the rules for keeping everyone safe and should be aware of what to do in case of an emergency, for example, he should know how to deal with a sudden medical problem or a natural disaster.
9. Marketing Skills:
It is very important to talk with people and tell them about exciting trips and extra services. Selling and Marketing skills play a very crucial role in the travel industry. People who work in the travel industry need to be really good at explaining a great deal and what makes their trip special. They should be able to convince people to decide to go and the worth of
the thing. When they do all these things well, more people want to book trips via their company and it helps to grow the company financially that's why being good at marketing and selling skills is very important in the travel industry.
10. Dedication:
Make sure your passion for travel and tourism comes over in addition to the skills listed above. Employers are ultimately looking for potential, so while some professions may also demand familiarity with important locations or your neighborhood, this can usually be learned on the job. Even when you're tired from being on your feet all day, having a positive attitude will help you accept and overcome hurdles. Don't be afraid to show your enthusiasm in job applications and interviews, even if working in the travel and tourism industry can be challenging.
So, these 10 skills and qualities are required to be successful in the field of travel and tourism industry. Hope you find this blog helpful. Must check out our latest blogs on the travel and tourism industry on our website Travelocademy.