Build a Career in Adventure Tourism- Skills, Jobs, and Salary in Adventure Tourism
For individuals looking for an escape from the ordinary, adventure tourism is a vibrant and exciting sector. Through this article, you will get information on every aspect of adventure tourism such as what is adventure tourism, the skills you require to make a career in this field, and job profiles in adventure tourism.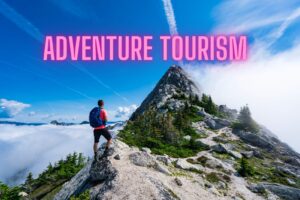 What is Adventure Tourism:
Adventure tourism belongs to a category of tourism that includes traveling to remote, foreign, and sometimes dangerous locations in search of physically demanding and culturally enriching experiences. Characteristics of Adventure Tourism are:
 Physical Activity
Challenges and Risks
Sustainability
Cultural Immersion
Essential Skills for Adventure Tourism:
1. Physical Fitness:
Physical prowess is the cornerstone of an adventure tourism career. Professionals must maintain peak physical condition to tackle the demanding challenges of outdoor activities.
2. Risk Management:
Mastery in risk assessment and management is vital. Balancing the thrill of adventure with participant safety is a skill that sets successful adventure tourism professionals apart.
3. Navigation and Survival Skills:
Basic navigation and survival skills are non-negotiable. Navigating diverse terrains and understanding survival techniques form the foundation of a successful career.
4. Interpersonal Communication:
Effective communication is key, especially for those leading groups through challenging environments. Clear instructions and communication ensure the safety and enjoyment of participants.
5. Environmental Awareness:
In an era of increasing eco-consciousness, professionals in adventure tourism must champion sustainability. An understanding of environmental impact and responsible tourism practices is crucial.
1. Adventure Guide:
Adventure guides lead groups through various activities, providing guidance and ensuring the safety of participants.
2. Adventure Travel Planner:
Crafting exciting itineraries and managing logistics, adventure travel planners create seamless and exhilarating adventures for participants.
3. Outdoor Instructor:
Outdoor instructors impart skills in activities like rock climbing, kayaking, and survival techniques, shaping the next generation of adventure enthusiasts.
4. Search and Rescue Specialist:
Rapid response to emergencies in challenging environments is the responsibility of search and rescue specialists, ensuring the safety of adventure seekers.
5. Wildlife Photographer:
Capturing breathtaking moments in nature during adventure excursions, wildlife photographers play a vital role in preserving memories and promoting the beauty of natural environments.
Salaries in adventure tourism in India vary based on factors such as experience, location, and specific roles.
Entry-level Positions: Typically start at around INR 25,000 to INR 35,000 per month.
Mid-level Positions: Professionals with a few years of experience can earn between INR 40,000 to INR 60,000 per month.
Senior Roles: Those in leadership roles, with significant experience and responsibilities, can command salaries exceeding INR 80,000 per month.
Discover Your Potential with Travelocademy:
A strong educational foundation is essential for people who are passionate about transforming their love of travel into a lucrative career. Let us introduce you to Travelocademy, one of Delhi's top coaching centers for travel and tourism. Travelocademy provides aspiring professionals with the skills and information necessary to successfully traverse the dynamic world of adventure tourism through extensive courses that are specifically designed to meet industry standards. With Travelocademy, you can take your passion to the next level and start a career that combines expertise with adrenaline! Using Travelocademy as your guide, discover the limitless opportunities that the world of adventure tourism has to offer.