The hospitality industry poses so many opportunities, it involves more than just taking orders, serving food, and wiping tables. There is excellent scope for people with a wide range of skills and qualifications to move up the career ladder in the hospitality sector. There are many career opportunities in this field are listed below: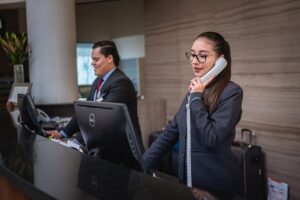 Management Positions:
1. Human Resource Manager
2. Accounting Manager
3. Marketing Manager
4. Sales Manager
5. Hotel Manager
An HR manager makes policies that keep employees safe, happy, protected, and supported. The key responsibility of an HR manager involves the effective management of people. He deals with all kinds of disputes and manages employee benefits.
In the hospitality sector, an accounting manager makes sure that a particular hospitality business is recording financial information properly. The major responsibility of an accounting manager is to keep track of income and expenses. He ensures all the bills and taxes are paid on time.
A marketing manager promotes the hospitality business. He manages and coordinates marketing staff. His other major responsibilities are managing social media activities and branding.
The sales Manager works on sales strategy and attempts to sell specific services or products. In the hotel, his responsibility is to sell hotel rooms, provide facilities for weddings and business facilities, etc.
The hotel manager manages and oversees the day-to-day operations of a hotel. He ensures that all the staff perform best and deliver quality service to guests. He manages all the regulations like administration, marketing, catering, cleaning, and housekeeping.
Food and Beverage Positions:
Restaurants, bars, cafes, and clubs come under the food and beverage sector. This sector focused on food and drinks. There are a lot of career opportunities in the Food and Beverage industry:
1. Restaurant Manager
2. Front Desk Manager
3. Front Desk Employee
4. Room Service
5. Waiting Staff
6. Kitchen Manager
7. Head Chef
8. Bartender
It is the responsibility of the restaurant manager to manage all the restaurant operations. The role of a restaurant manager may involve hiring and firing staff, providing relevant training to staff, and maintaining reports. He deals with serious complaints and makes sure customers don't feel any kind of difficulty.
Coordinating and supervising front desk staff is the major responsibility of the front desk manager. The front desk manager ensures that the front desk is always well-staffed. He hires new front desk employees, provides training to them, and makes a report of their performance.
Front desk employees are directly in contact with customers. They work in the reception area. Front desk employees resolve the queries of the customer, welcome guests, answer telephone queries and collect payment.
This position combines two roles that are customer service and waiting staff. Room service staff communicate with customers or guests and take orders for food and beverage then they communicate with the restaurant regarding orders and at last deliver an order to the customer's hotel room.
Waiting staff is an entry-level hospitality career and the responsibility of waiting staff includes taking orders, serving food, taking payments, and collecting cutlery.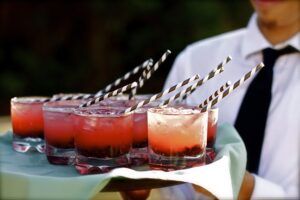 Kitchen Manager manages all the operations of the kitchen. It is his responsibility to hire and fire kitchen staff. He also provides training to new kitchen staff and supervises their work. The kitchen manager manages stock levels and departmental budgets.
The head chef has additional responsibilities because he is the main chef of the restaurant. Supervising other chefs, creating and implementing menu are some major responsibilities of the head chef.
A bartender is an employee who works in a bar. His responsibilities are taking orders, preparing and serving drinks. He also collects payments from customers.
Top skills for Hospitality:
There are some key skills that you need for the hospitality sector:
Communication
Teamwork
Problem-Solving
Business Management
Risk Management
Staff Management
Creative Thinking
Time Management
Important Sectors of the Hospitality Industry:
1.  Food and Beverage:
Businesses that come under this sector are:
2. Accommodation:
Accommodation provides privacy, comfort, and safety to tourists. It includes:
3. Travel and Tourism:
Travel and tourism is an important sector that helps tourists to move from
one place to another. It includes:
•  Bus
•  Cruises
4. Entertainment:
Entertainment is an important sector of the hospitality industry that refresh the moods of tourists. It includes:
  Museums
  Concerts
  Sporting events
Hope you find this information helpful. Thank you!